We know, we know. A holiday guide now? While it might seem silly to be thinking about buying holiday gifts for your dog, it won't be long before you're wishing you'd bought your furry friend their own gift to unwrap. Buy pet holiday gifts now online for your favorite Blanchard goodies. For your ease (and ours. These organic dog treats don't ship themselves!) we've put together our ultimate holiday gift guide to make shopping for your furry friend a piece of dog-friendly cake.
Let the festivities go well into next year with our advent dog treats calendar! Let your dog join in on a classic holiday tradition by surprising them with an organic dog cookie every day. They'll be jumping up and down, so excited to reveal the day's special gift. It's a fun activity for kids, too! Each calendar contains 25 iced dog cookies locally made with organic ingredients: 24 iced small bones and one very special paw iced cookie. Purchase yours here.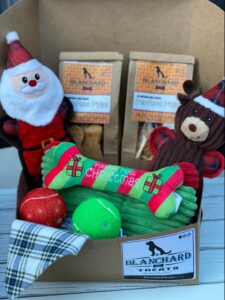 Our holiday pet basket has all sorts of goodies for your dog including organic treats, a handmade, reversible slip on bandana, iced cookie and a toy. It's perfect for them to tear open for a delightful holiday surprise or reward them one gift at a time over a few days. Purchase yours here!
Start up a monthly ritual guaranteed to get your dog's tail wagging. Our monthly spoil boxes start simple with just delivery of their favorite treats each month, and the Platinum box comes with everything to show your furry friend just how much you care. Our high tier Spoil Box has 2 all-natural bags of treats, 2 toys, and a handmade slip on bandana. Our boxes come in three sizes (puppy, junior, and adult) depending on how old/large your pupper is, making it perfect for their age-specific needs. Purchase yours here!
You're not the only one who wants to dawn your gay apparel; help your doggo join in the festivities with these holiday-themed dog bandanas! Each is handmade and easy to slip on for comfort and style. We have tons of different styles, perfect for showing off your dog's personality. Purchase yours here!
There's nothing a dog loves more than the W word, but with your hectic schedule you might not always have the time. Treat you and your dog to our dog walking services! Choose between 15 and 30 minute walks for up to three of your furry friends starting at just $19. Your dog and your busy schedule will thank you. Schedule yours here!
Our specialty is 100% organic dog and cat treats (it's in our name!) Spoil your pets this holiday season with a bag of delicious, locally made treats. We have a ton of different flavors to choose from. Does your dog go nuts for peanuts? Try our Perfect P'Nut dog treats for a nutty delight. Got a cat with a sweet tooth? Our Sweet Nip cat treats are the best! Can't make up your mind? Our variety pack is the perfect way to find your dog's new favorite treat! Browse our organic dog and cat treats here.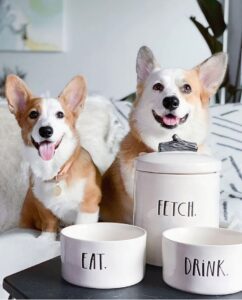 Now that you've got enough organic dog treats to keep your pet happy over the holidays, you need a place to put them! Check out our adorable "Best Friend" ceramic treat canister handmade by California potterist Rae Dunn. It's the perfect place to hold all your treats for man's best friend. Purchase yours here!
Everyone loves a matching set! Remind your pet how much you love them every morning and evening with a new water and food bowl. Also made by Rae Dunn, each bowl is unique and perfectly made to show off you and your pet's personality. Got a voracious pupper? Our "Devour" dog bowl is perfect for them! Does your kitty want only the finer things in life? Our flower cat dish makes even dry food feel like a gourmet meal. Find your perfect food and water bowls here.
Got a new puppy still adjusting to their forever home? Is your older dog prone to anxiety? We all feel a little holiday stress, even our furry friends! Our dog calming spray is perfect for any frantic pup in need of a little TLC. It's the best gift for both their nerves and yours. Purchase yours here!
Is Santa bringing a new furry friend into your home? Perfect for the newest addition to your family, our New Pet Welcome Basket has everything to celebrate you and your pet's first holiday season, and saving you some crucial time this year. Choose between three options: 
Basic – Personalized bandana, collar, leash, food and water bowl, plush toy, a personalized blanket, and a bag of Blanchard & Co. Training Treats.
Classic – Personalized bandana, collar, leash, food and water bowl, personalized blanket, shampoo, calming spray, potty pads, plush toy, and a bag of Blanchard & Co. Training Treats.
Deluxe –  Personalized bandana, collar, leash, food and water bowl, personalized blanket, shampoo, calming spray, deodorant spray, potty pads, potty bags, paw wipes, paw balm, hair brush, tooth brush, warming pad, treat jar, teething rings, personalized decal, and a bag of Blanchard & Co. Training Treats.