Store Locator
The first place to buy our treats, cakes, cupcakes, bandannas, cookies, and more is right here with us! Place your order online for pick up or free delivery if local.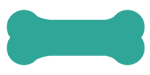 Our treats are carried in retail pet supply stores around North Carolina, and as the word spreads about our organic, all natural dog and cat treats, more and more stores are adding us!  Look below to find a store near you. If your favorite store doesn't carry us, please ask them to do so! If they don't have what you need, inquire about custom orders here.
NOTE: Each store has its own pricing structure, so your cost will vary.
Beaufort NC
Salty Catch Seafood Company Market
300 Wellons Drive
(252) 838-9145

Beech Mountain NC
Fred's General Mercantile
501 Beech Mountain Pkwy
(828) 387-4838
Browns Summit NC
Hopkins Poultry                                              7740 Doggett Road                                            (336) 656-3361
Burlington NC
Green Acres General Store                          1456 Greenwood Drive                                  (336) 263-9465
Nature's Emporium
350 South Church Street
(336) 538-2450
Castle Hayne NC
The General Store at River Bluffs
1030 Chair Road
(919) 623-5015
Charleston SC
WildFlour Pastry
1750 Savannah Highway
(843) 327-2621
Clayton NC
Clayton General Store
10522 US-70 BUS
(919) 585-2288
Clemmons NC
Clemmons Country Store
2690 Lewisville Clemmons Road
(336) 766-8988
Ellerbe NC
The Berry Patch
351 Cargo Road
(910) 652-3276
Elon NC
Reedy Fork Organic Farm
7092 Sockwell Road
(336) 449-4888
Fayetteville NC                                                   A Bit of Carolina                                              306 Hay Street                                                 (910) 551-6537
Four Oaks NC
Stanfield's General Store
105 N. Main Street
(919) 963-9607
Gibsonville NC
Blanchard & Co. Treats: PICK UP BY APPOINTMENT ONLY
306 Slate Drive Gibsonville NC 27249
(336) 264-6924
Greensboro NC                                                      The Natural Dog                                                    3708 Lawndale Drive
(336) 763-2015
Proformance Pet Supply
701-B English Street
(336) 482-5530
Town & Country Meat Produce Market
2008 W Vandalia Rd
(336) 617-8128
Hickory NC
The Natural Dog
(828) 322-5283
High Point NC
The Natural Dog
1589 Skeet Club Rd
(336) 991-5082
King NC
The Market by Dragonfly
119C E Dalton Road
(336) 985-8620
Leland NC
Family Dog Naturals
1120 East Cutlar Crossing
(910) 859-7605
Liberty NC
Waggin Tails Dog Grooming
436 N Greensboro Street
(336) 233-1380
Mt. Airy
Mill Creek General Store
541 West Pine Street Suite 200
(336) 755-2340
Mt. Gilead
Thistle Ridge Soap, LTD
105 S Main Street
(864) 710-4404
Madison NC
Madison Dry Goods Co Inc
104 W Murphy Street
(336) 427-7099
Morehead City NC
Sea Paws
412 Evans Street
(252) 648-8522
Pleasant Garden NC
Mary Ann's Country Store
4730 Pleasant Garden Road Pleasant Garden NC 27313
(336) 312-5390
Wilkesboro NC
Waggles Pet Supply
1234 School Street
(336) 903-4906
Wilmington NC                                                      BonesWilmington                                                  615 S 15th Street Wilmington NC 28401             (919) 396-0331                                            
Want to be on this list?
We love establishing long term partnerships with retailers who share our commitment to quality. Wholesale handmade pet treats are available for retailers in and around North Carolina. Contact us for more information!