Winter is well and truly upon us. Of course, at our pet bakery in NC, that can mean anything from a dry, sunny 25° to a sunny 80° to a mysteriously warm torrential downpour from one day to the next (one hour to the next?).
Either way, check your pipes, make sure you have the right wardrobe to get through the season, and maybe it's time to check your car's tires and brakes for driving in the rain and snow. While you're going through your winter checklist, don't forget to include these winter tips for pets. 
It's important to keep your pets in mind in the changing seasons. Some winter pet safety measures to keep in mind:
Know their limits, and make sure they're not getting too cold. If it's too cold for you, it's possible it's too cold for them too.

Along with that, try not to shave your pup down too much. They need their fur for warmth in the cold weather conditions! 

If you're taking them on a walk in the snow, wipe down their paws when you get back. Antifreeze, snow melt, and more can get onto their paws. Wiping them off keeps them from licking these dangerous materials off, and maybe getting sick. 

Don't leave animals in unattended cars. In summer, we know that cars getting too hot is dangerous, but cars getting too cold in winter can be just as bad. 

If it's really cold or snowy outside, consider bringing your outdoor pets inside. At the very least, give them a sturdy shelter outside, out of the wind and snow. And make sure you're using plastic bowls outside to give them food and water. Metal bowls can freeze and doggy tongues can get stuck.
You might feel the need to take things easy and maybe treat yourself a little more in the cold, dark months. Your pet is no different.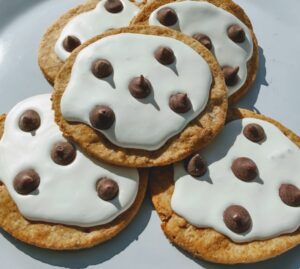 They needed to be treated every now and then too. That's where we come in. 
If you're looking for a pet store near Gibsonville, NC where you can get dog goodies, we have you covered! At Blanchard's, we have plenty of treats to take care of your little pals. We have dog bandanas that slide onto a collar, dog cakes, make your own dog treats kits, and more! 
So when it's time to treat your furry friend, and you're asking 'Where's a good dog bakery near me?', let the answer be Blanchard's!
Show your fluffy family members a little extra love this season. It might even remind you to give yourself a little extra love as well. We could all use it in the months leading up to spring, so feel the love!