We are so excited that my sister, Natalie, turned me on to Rae Dunn-Clay a few months ago!
What is Rae Dunn? Rae Dunn is a lady from and still resides in California. She began making one of a kind clay pieces in 1994. Rae currently has clay sold nationwide-and-it's crazy, hard to find. Much like Jeff and myself, Rae's inspiration comes from the earth and she finds beauty in simple shapes, natural forms, and found objects.
From her website RaeDunn she is quoted saying, "I don't think my art is a reaction against the complexity of life today, but rather a way for me to embrace the joyful, spontaneous elements of daily life that seem to be wanting in so much of what we do. Today, more than ever, I think we all need to slow down and grasp that which is honest, real, and personally satisfying. I try to express those feelings in all of my work. In my own way, I am driven to find that balance between expressing something that is deeply meaningful to me, and creating a sense of joy that might quietly touch the lives of others."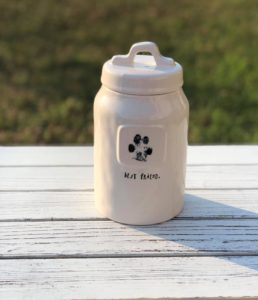 You'll start seeing Rae Dunn-Clay in our online-shop, in displays at our trade shows, and in photos that we share with you!
Jump on in with us and decorate your home with Rae Dunn. You can't go wrong and the possibilities are endless. It's a Win-Win-Win! For You, Your Home, and Your Dog-or-Cat.
Don't forget that Blanchard's Treats-made in North Carolina look fantastic in Rae's treat canisters, food bowls, and dishes. Happy Shopping!