It's never too early to start shopping for the holidays. And while you're shopping for friends and family, don't forget about your furry friends!
We have just the products for you to give your dog the best holidays possible. If you're stuck for ideas, we have you taken care of, no matter what Santa is bringing for your pets!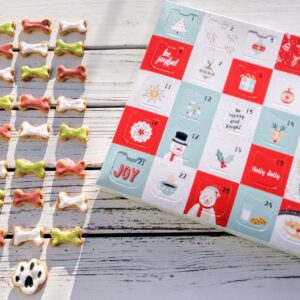 Our New Advent Calendar!
We all love advent calendars – the anticipation of opening a small gift every day to count down to the holidays is a fun teaser for the larger gifts to come. With our Advent Pet Treat Calendars, your pup can join in on the holiday fun! Each box holds an iced dog cookie, so you can share a treat with them every day for 25 days. Your dog might start begging to open more than one a day, but be strong! 
Festive Holiday Iced Pet Treats:
Our adorable Christmas themed iced pet treats are a perfect gift or stocking stuffer for your furry friend! You can also find a variety of treats including gourmet cat treats, handrolled crunchy dog treats, and even handmade sandwich treats for dogs!
Perfect Gifts for Pet Lovers:
For those in your life that really love to make their pets part of their family, we offer Make-Your-Own-Pet-Treat kits – it's a great gift that encourages families to spend time together – including their pets!
If you're not sure about your giftee's pet needs, we also offer delivery of virtual pet supply gift cards right to their inbox! Include a custom message and schedule your gift card to arrive exactly when you need it to.
Gourmet Pet Treat Packs:
When you're passing out gifts, you don't have to leave out your canine companions. We offer iced dog cookies in packs, as well as Christmas baskets for pets. Watch dogs take part in ripping gifts open to get to the goods! It can be just as fun as watching the kiddos get excited about presents. Don't forget to take a snapshot!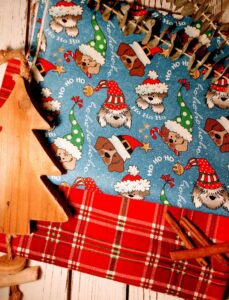 We have our Christmas slide on bandanas now in stock online, plus tons of pet extras – food and water bowls, stress aides, and more! You're sure to find what you're looking for to gift to your pups. 
Your dogs can be just as involved in the holiday process as the rest of your family. If you're looking for something a little different, feel free to check out our online pet supply store for all kinds of unique gifts for the pets in your life.
This season, we're taking part in a few festive holiday events, and we invite you and your pets to take part!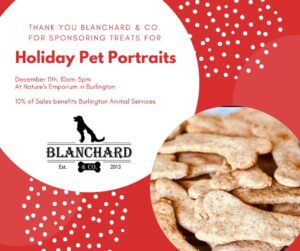 Join us and Katie Smith Photography at Nature's Emporium in Burlington, NC for a Holiday Pet Portrait session! Every pet who participates will get treats to ensure that perfect photo. More info here.

Join us for great Holiday shopping! Support multiple small business all in one place! Vintage, gifts, eats and more! FREE to attend! All forms of payment accepted. At Carolina Chic in Burlington, NC, on Friday Nov 26, 4 – 8 pm and Saturday Nov 27, 8 am – 3 pm. More info here.
From the Blanchard and Co. family to yours, we wish you the happiest of holidays full of fun, family, and furry friends.